Date/Time
Date(s) - 30/05/2019 - 31/05/2019
9:00 am - 6:00 pm
Location
Swisscom
Categories
In this 3-days Ethereum developer training you will learn everything you need to know to build your first DApp.
This course gives you the know how to use all the required tools such as: VS Code, Truffle, Ganache, Remix, Geth, OpenZeppelin, etherscan, Rinkeby, Metamask and so on.
You will learn…
How to setup a professional development environment with automated tests, coverage, linting, debugging, deployment
What possibilities and limitations Ethereum and smart contract have.
The main concepts and features of Solidity.
This is a hands on course. With several pair programming sessions per day and TDD (Test Driven Development) approach.  We will answer all your individual questions in that topic.
Agenda
Day 1
Blockchain and Ethereum Basics
Development tools and first smart contract
Day 2
Solidity Basics
ERC20 Tokens and other standards
Day 3
Setup private Ethereum network
dApp development and deployment to main or testnet
Requirements
This is a hands-on course with several coding sessions
Basic programming knowledge
Engineering or computer science background
Basic understanding of what a Blockchain is
Your instructors
Kasimir Blaser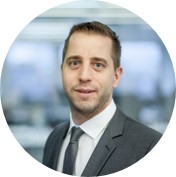 Kasimir is a senior Software & IT Consultant with a deep understanding of blockchain technology; especialyl in Ethereum and smart contract development. He holds a Bachelor of Science degree in Computer Science and is certified in AWS Solution Architect – Associate, Professional Scrum Master and Developer, Oracle Certified Java SE 7 Programmer II.
Martin Valenta


Martin is a blockchain engineer and consultant with experience in both conceptualizing and implementing Distributed Ledger Technology (DLT) solutions​. He studied computer science, information systems and management at leading universities in Germany​.  Before dedicating to DLT, he acquired his technical skills as mobile app developer and conceptual skills as quality assurance engineer for mobile apps​. He combines the ideal expertise to holistically understand the technical, economic and organizational challenges that the introduction of DLT entails​. ​