Date/Time
Date(s) - 26/02/2019
6:00 pm - 8:30 pm
Location
Co.Station Charleroi
Categories
A basic knowledge in the subject is required. If you want to start experimenting with smart contracting, come and discover how EnCo Blockchain as a Service may be of value to you.
Blockchain is the new sexy, people say. You may understand the advantages and promises of blockchain technology, grasp the promises of smart contracting – but technical resources on these technologies are still quite scarce today.
EnCo wants to help you focus on your business value while reducing the burdens of the technology. No more need to run a blockchain client, to generate a wallet, to run dark or complex commands to deploy your smart contract code and deal with complex ABI interactions. Blockchain as a Service even integrates with EnCo's event hub through easy scripting.
If you are a developer or a business developer with an interest in solutions related to IoT, Cloud, Big Data, Telco and AR and Blockchain, then you would like to learn more about Proximus EnCo: they are all about API, CoCreation and Data integration.
The Proximus EnCo Night has been designed to meet, demo and exchange on innovative projects at Co.Station.
The Proximus EnCo Night is not meant to explain once again what the blockchain is. We propose you a quick overview of our solutions, and the study of concrete cases using these. The solution is still quite young in our portfolio (beta phase), we are very interested to meet potential partners willing to assess together the impact of this technology.
SPEAKER: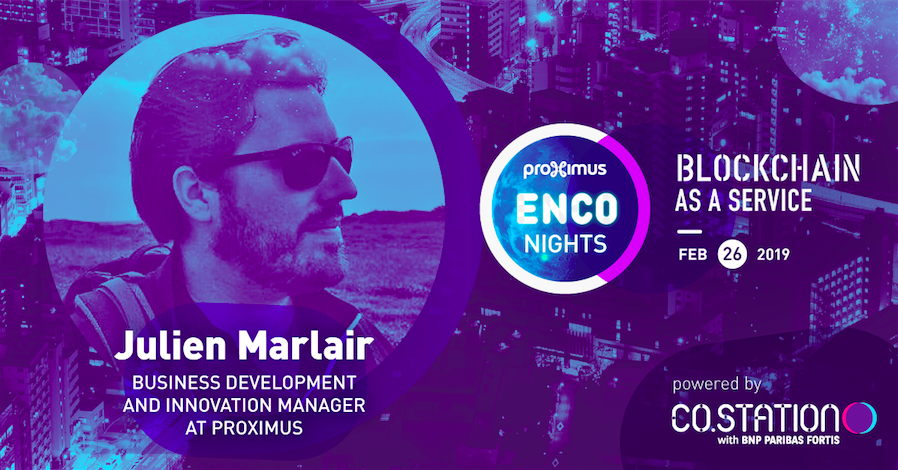 PROGRAMME:
18:00 – Doors Opening
18:30 – Welcome Words by Co.Station Charleroi
18:35 – Proximus EnCo Nights Powered by Co.Station – Introduction by team Proximus EnCo Night
18h40 – "Blockchain as a Service" – Julien Marlair, Business Developement & Innovation Manager chez Proximus
19h10 – Drink & Networking
Event is free, registration mandatory.
Presentation will be in English
---
---
Let's boost digital innovation!
We Grow Together | #WeRCoStation